Carbon Lightweight Rollator
ByACRE Carbon Ultralight Rollator
The ByACRE Carbon Ultralight is a extremely lightweight rollator, weighing only 4.8 kg whilst still keeping the features that makes a superb rollator. The lightweight rollator is made out of carbon fibre and is the lightest rollator of its kind. It was designed to be the perfect companion when travelling or just going round the corner. The ByACRE Carbon Fibre Rollator is not only practical, it is stylish too. The design incorporates hidden brake cables to give you that smooth stylish look.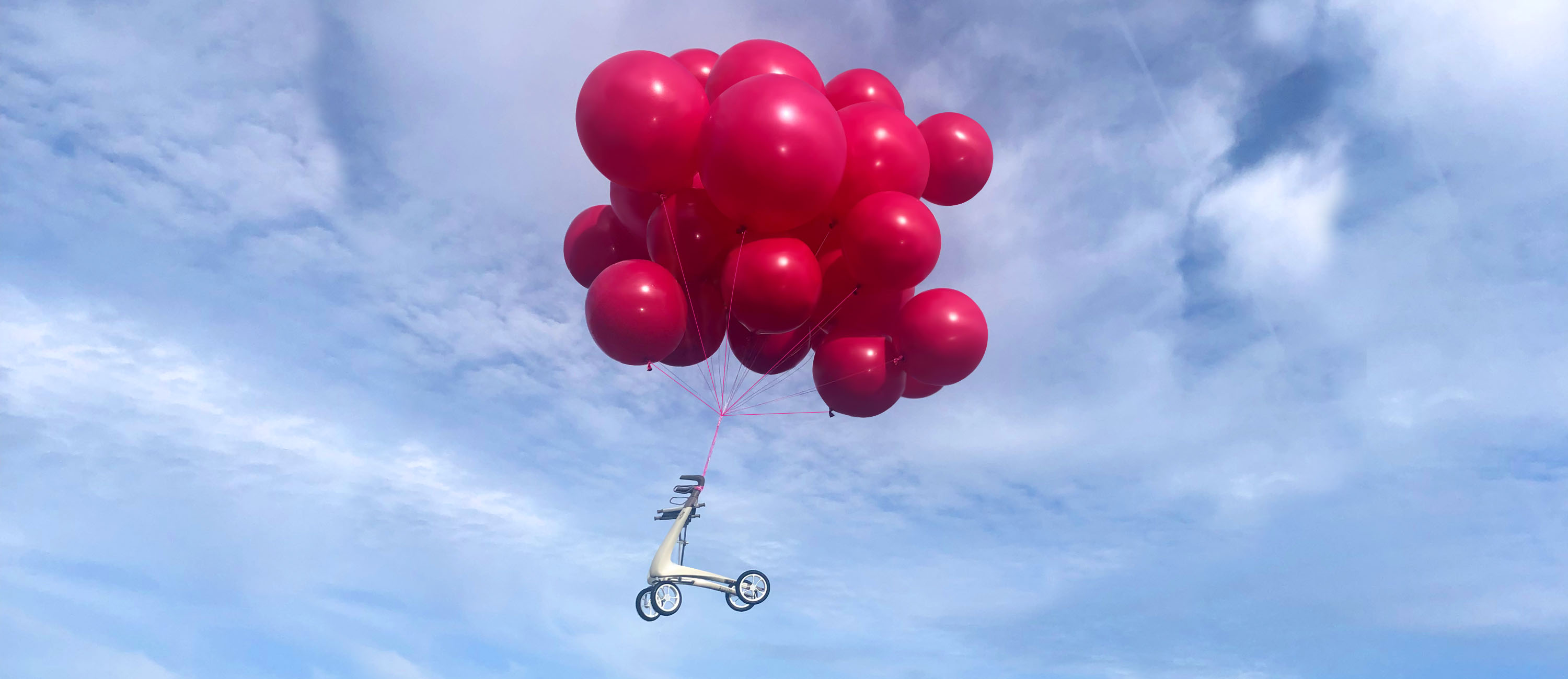 This lightweight rollator doesn't just look good, it also excellent for travelling! It is fully foldable for easy transportation and storage and is only 255 mm wide once folded.
The ByACRE Lightweight Rollator also has accessories which work in conjunction with this rollator. You can purchase a weekend bag, back rest and even an organiser to make your rollator more practical. Please see our full accessories list below to purchase! This version comes with the organiser
The fully height adjustable rollator is available in three colours: Oyster White, Strawberry Red, Carbon Black
Specifications:
Weight: 4.8 kg
Dimensions: 70 × 25 × 80 cm

Colour: Oyster White, Strawberry Red, Carbon Black

Rollator weight : 4.8 kg (Regular Track)

Seat width: 42 cm (Regular Track)

Seat height: 61 cm

Width: 62.5 cm (Regular Track)

Width (folded): 25 cm

Width between handles: 39 cm (Regular Track)

Handle height: 79-91 cm
Length: 66 cm

User weight: Max 130 kg
Features:
- Extremely stable design with carbon fiber frames and aircraft grade aluminum
- Automotive inspired dynamic styling
- Ergonomic handles support the right posture
- 200 mm soft and comfortable PUR tyres on all 4 wheels
- Push button for height adjustment in 30 mm increments
- Easy folding for storage and transport – only 255 mm wide when folded
- Height: min. 790 mm, max. 910 mm
- Weight: 4.8 kg
Accessories:
THIS PRODUCT IS AVAILBALE TO BUY VAT EXEMPT.