Oxford Calibre Hoist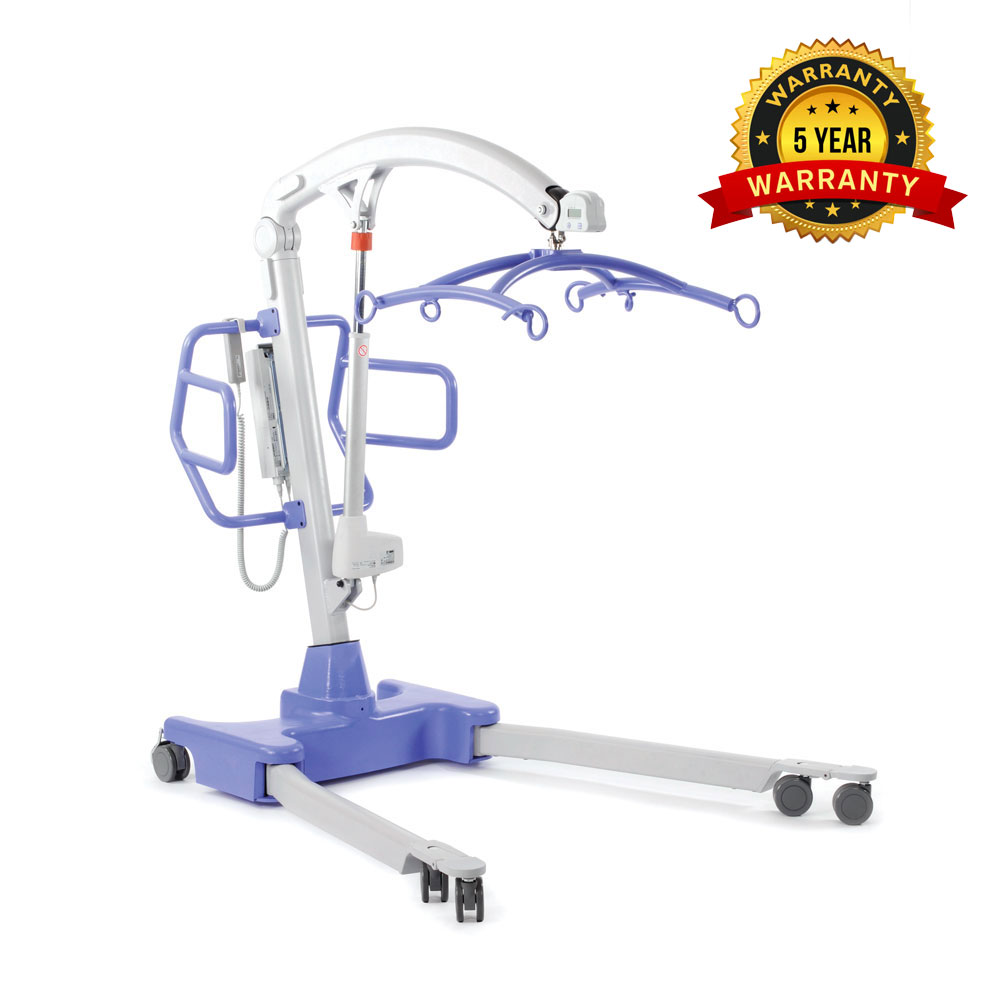 Oxford Calibre Bariatric Hoist

The Oxford Calibre Hoist is ergonomically designed to lift bariatric patients safely. Both sturdy and robust the Calibre Hoist has an exceptional safe working load for a mobile hoist (385 kg/60 st). The Oxford Calibre meets the unique needs of bariatric care in today's modern healthcare environment. Oxford have designed a special range of bariatric slings, ensuring safe and comfortable transfers for the bariatric service users.
A large 6-point cradle spreader bar provides excellent spatial area to assist with patient comfort and positioning.
The Class III integrated digital weigh scale (comes as standard) is perfect for monitoring the service users weight. Compact and easy to use, the intuitive controls and dual display eliminates the need for additional equipment and unnecessary transfers.
The Calibre has brilliant features to enable easy maneuvering. An over sized push handle ensures improved handling and transferring, whilst the foot 'push pad' reduces the force needed to initiate forward movement. The Calibre Mobile Hoist has twin pivoted front castors which also aid the maneuverability, especially over uneven and rough surfaces. The removable bump guards allow you to protect the legs from damage when transferring.
Electrical powered leg positioning allows for better access around every day obstacles such as wheelchairs, large chairs and sofas. The easy to use handset eliminates the need for the manual leg adjustment.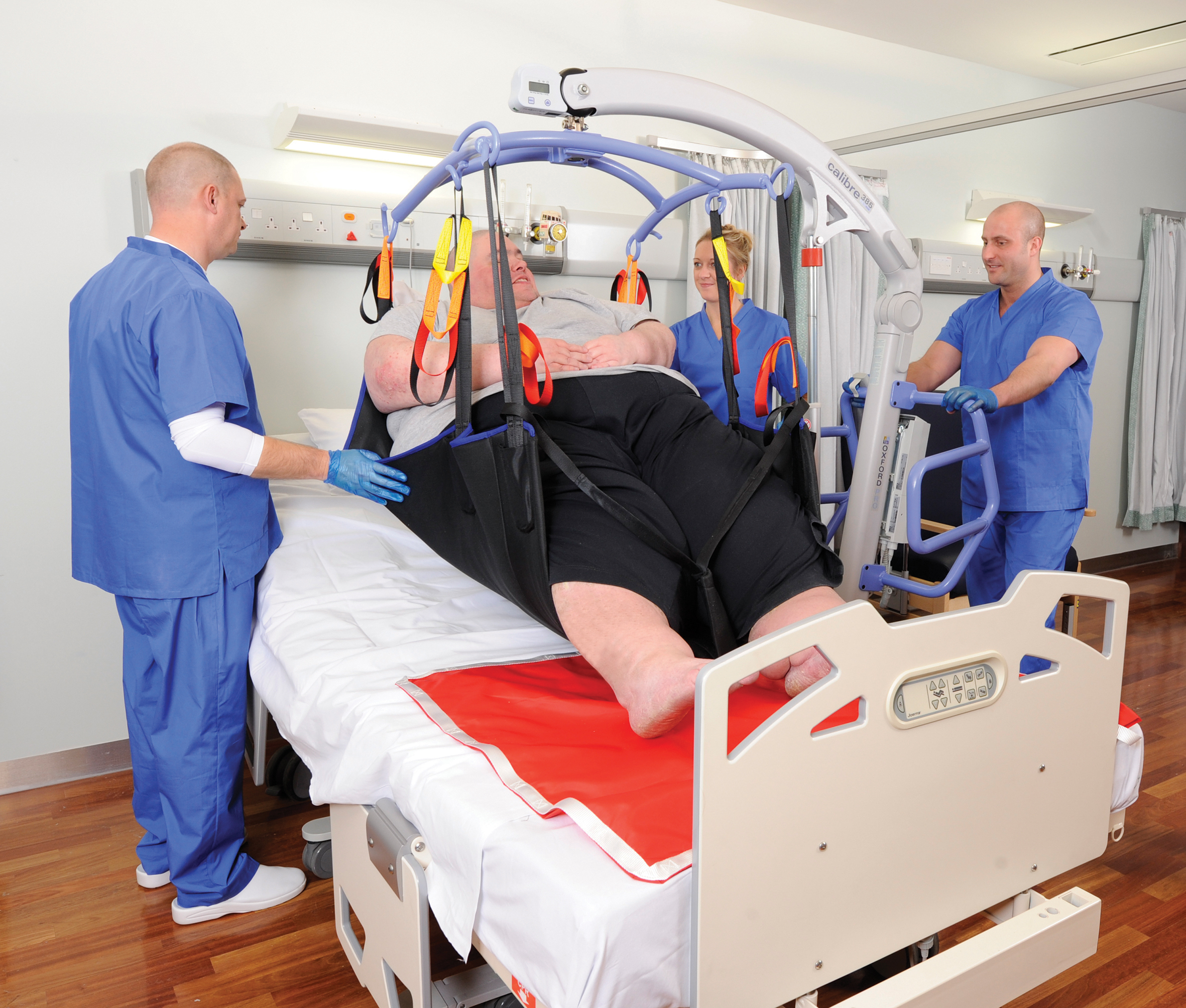 The Smart Monitor control box records the exact amount of work completed by the actuator every time it has been used. The diagnostics system notifies the user to schedule key maintenance, ensuring the Oxford Stature Hoist remains in optimum condition.
The Oxford Calibre's incredible lifting range covers a variety of transfers including:

- Bed to Chair

- Chair to Chair
- Floor to Chair
Specification:

Safe Working Load: 850 lbs (385 kgs)

Maximum Overall Length: 625 mm (64")

Minimum Overall Length: 1700 mm (67")

Maximum Overall Height: 2250 mm (88.5")

Minimum Overall Height: 1590 mm (62.5")

Maximum Height To Attachment Point: 1930 mm (76")

Minimum Height To Attachment Point: 755 mm (29.8")

Height at Maximum Reach: 1710 mm (67.5")

Reach at Maximum Height: 710 mm (28")

Reach at Minimum Height: 660 mm (26")

Turning Radius: 1940 mm (76.5")

Legs Open (External Width): 1400 mm (55.3")

Legs Open (Internal Width): 1245 mm (49")

Legs Closed (External Width): 845 mm (33.3")

Legs Closed (Internal Width): 680 mm (26.8")

Overall Height Of Legs: 115 mm (4.8")

Ground Clearance: 15 mm (0.6")

Front Twin Castors: 100 mm (4")

Rear Brake Castors: 100 mm (4")
Weights:
Total: 246.6 lbs (112 kgs)

Power Pack: 6.6 lbs (3 kgs)
Key Features:
Has a huge safe working load (SWL) of 385 kg (60 stone)

Powered Leg

Positioning

Ergonomic design




Smart TM Monitor control box diagnostic results

Large push handle for easy maneuverability

6-Point cradle (Large)

Two Pivoted Castors

Integrated Class III digital weighing scale
Whats Included:
6-point cradle Spreader Bar

Integrated Class III Weighing Scale

Battery

Charger

5 year Warranty on Hoist frame & actuator

1 year Warranty on battery, charger and handset and castors

If a call out is needed, this service is chargeable.
Slings
Bariatric All Day Sling

Toileting Sling (not bariatric)

Bathing Sling (not bariatric)