Oxford Journey Stand Aid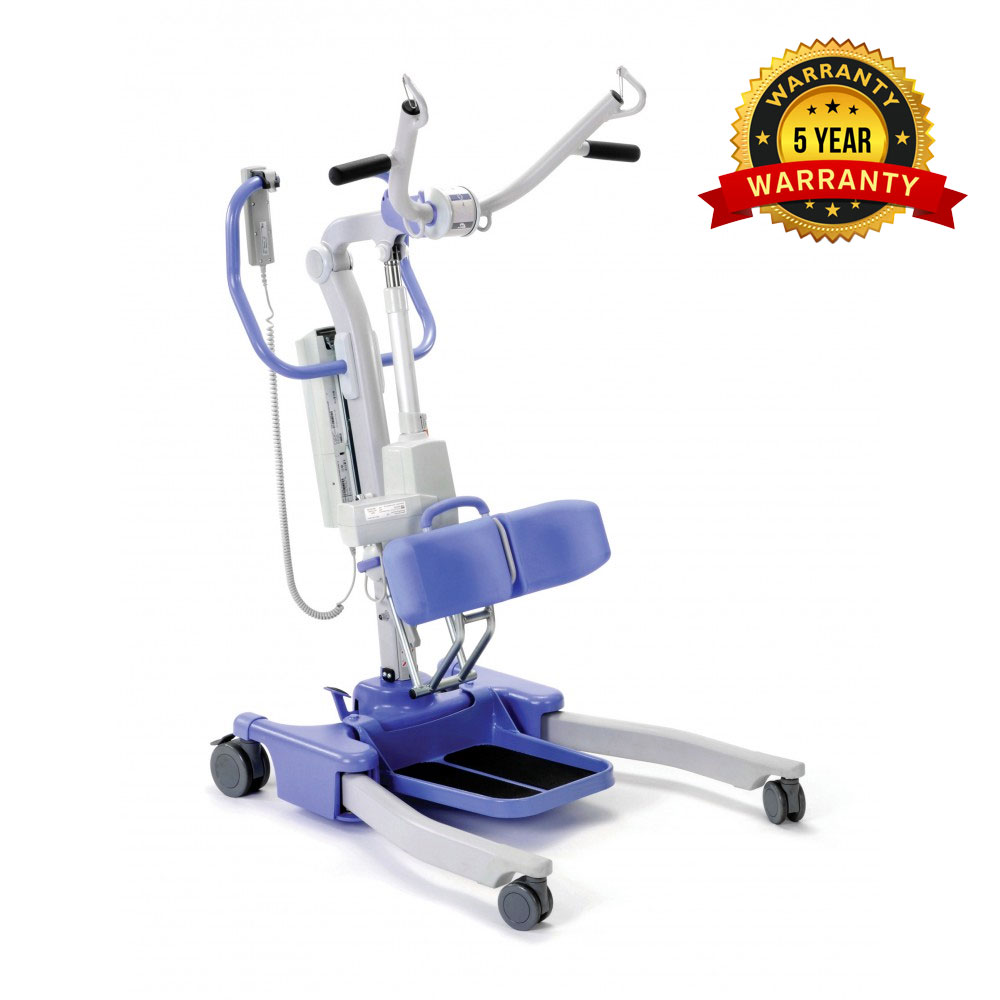 Oxford Journey Stand Aid
Our Oxford Journey Electric Folding Stand Aid, is part of the outstanding Oxford Professional Family range of Hoists and Stand Aids. Easily foldable, lightweight and exceptionally robust, this NEW Oxford Journey Stand Aid embodies the latest design and manufacturing technologies to create the most portable and compact folding Stand Aid in the industry!
The Smart™ Monitor control system records the exact amount of work completed by the actuator every single time the lift is used, regardless of a patient's weight or lift height.
This top of the range system advises the user to schedule crucial maintenance, ensuring your lift remains at maximum quality.
With its Compact Folding Design, The Oxford Journey Stand Aid means it can support a wider range of patient's heights and sizes, ensuring complete flexibility for the carer / support person.
The Adjustable Knee pad means that the Oxford Journeys Contoured Knee pad is height adjustable to ensure the patient feels fully comfortable and fully supported throughout the transfer. The Oxford Journey Comes with a 5-year Warranty.

Folding Design
Unlike other stand aids on the market, the Journey can fold making it easy to transport and store. This functionality gives active users the option to travel outside the confines of their own home.

Standing

Point to point transfers

Walking/Rehabilitation activity

Toileting
Unique adjustable cow-horn The Journey's unique adjustable cow-horn ensures maximum flexibility and improved patient comfort. With three cow-horn height options, the Journey can support a wider range of patient heights and sizes. Simply pull back the trigger mechanism on the boom and select the required cow-horn height

Specification:

Safe Working Load: 341 lbs (155 Kg)

Maximum Overall Length: 1000 mm (39.4")

Minimum Overall Length: 935 mm (36.8")

Maximum Overall Height: 1600 mm (63")

Minimum Overall Height: 1130 mm (44.5")

Height (Folded): 525 mm (20.5")

Depth (Folded): 1040 mm (41")

Widest Point (between support handles): 680 mm (26.8")

Max. Height to attachment point: 1530 mm (60.2")

Min. Height to attachment point: 720 mm (28.4")

Turning Radius: 1145 mm (45.1")

Legs Open (External Width): 970 mm (38.2")

Legs Open (Internal Width): 875 mm (34.5")

Legs Closed (External Width): 685 mm (27")

Legs Closed (Internal Width): 590 mm (22.2")
Overall Height Of Legs: 110 mm (4.3")

Ground Clearance: 30 mm (1.2")

Front Twin Castors: 100 mm (4")

Rear Brake Castors: 100 mm (4")

Weights:
Total: 88.6 lbs (40.2 Kg)

Power Pack: 6.6 lbs (3 Kg)

Base Assembly: 30.2 lbs (18.2 Kg)
Key Features:
Safe Work

ing load (SWL) of: 155 Kg / 24 st

Compact folding design for storage and transportation

Smart TM Monitor for diagnostics

Ergonomic Design

Detachable foot tray for walking/rehabilitation activity

Large Push handle for easy manoeuvrability



Whats Included:
Battery




Charger

5 year Warranty on Hoist, actuator and control box

1 year Warranty on battery, charger and handset and castors

If a call out is needed, this service is chargeable.
Slings