Oxford Major 200 Electric Hoist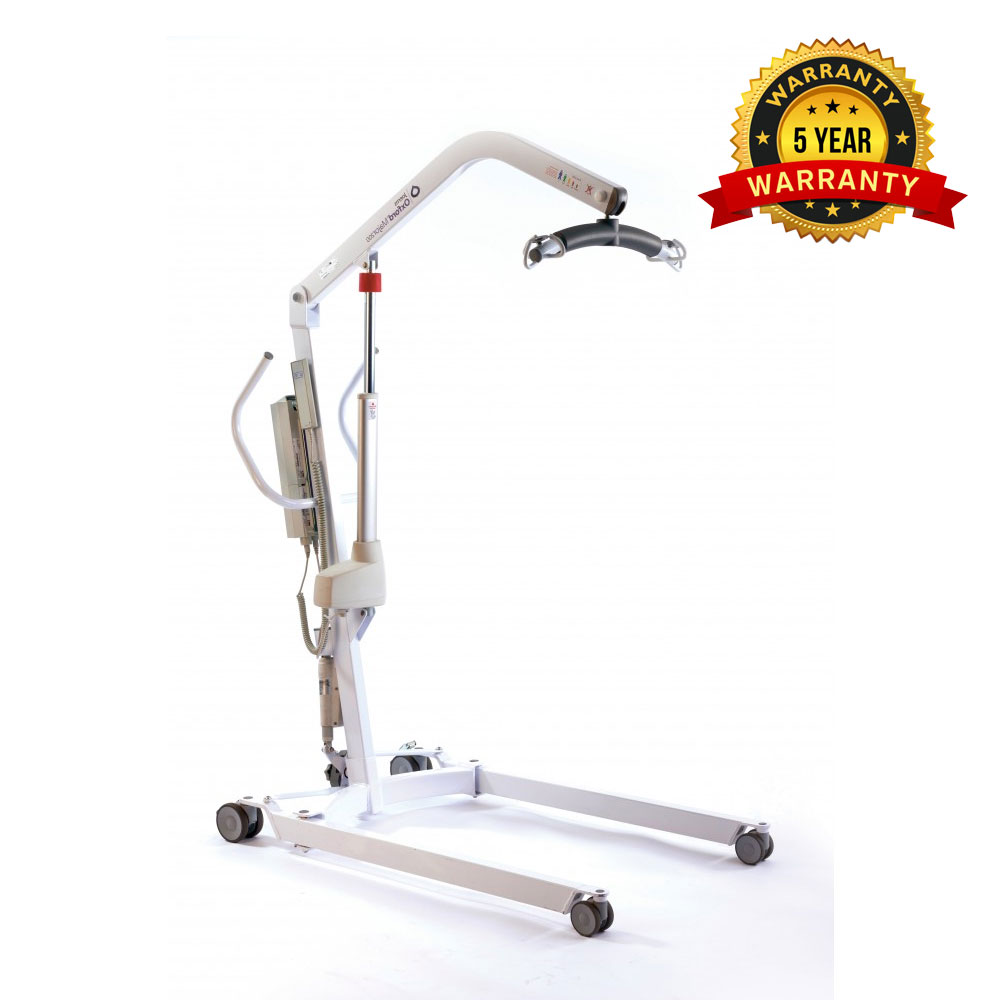 Key Features:
- Safe working Load (SWL) of 200 kg / 31st

- Interchangeable Spreader Bars

- Emergency Descent for safety

- Large Push bar for easy manoeuvrability

- Smart TM Monitor for diagnostics and data feedback

Specifications:
Safe Working Load: 200 kg /31 st

Length: 1300 mm

Maximum Overall Height: 1930 mm

Minimum Overall Height: 1380 mm

Maximum Spreader Bar Height: 1725 mm

Minimum Spreader Bar Height: 525 mm

Spreader Bar Height at Maximum Reach: 1200 mm

Spreader Bar Height at Maximum Height: 630 mm

Spreader Bar Height at Minimum Height: 490 mm

Maximum Reach: 720 mm
Turning Radius: 1310 mm

Legs Open External Width: 1230 mm

Legs Open Internal Width: 1140 mm

Legs Closed External Width: 660 mm

Legs Closed Internal Width: 580 mm
Overall Height of Legs: 100 mm

Ground Clearance: 15 mm

Front Twin Castors: 75 mm

Rear Braked Castors: 100 mm

Weights:
Total: 42 kg

Mast and Boom Assembly: 23 kg

Base Assembly: 19 kg

Oxford Major 200 Electric Hoist
The Oxford Major 200 is the perfect solution for both nursing and acute care environments. The Major 200 is available in both hydraulic and electric versions. The Major has an outstanding Safe Working Load (SWL) of 200 kg (31st) which allows the hoist to work in almost all settings.
There are three different sizes of spreader bar available Paediatric (Small), Standard (Medium) and Large to ensure the service user is comfortable and feels safe.
The Oxford Major 200 also incorporate the unique SmartTm Monitor which:

Identifies service interval periods

Identifies total number of actuations and work completed

Provides a battery level indicator

Identifies lifts above the SWL providing safety
What's Included:
Battery & Charger
5 year Warranty on Hoist frame & actuator

1 year Warranty on battery, charger and handset and castors