Mermaid Electric Bath Hoist - Side Fit with Commode Seat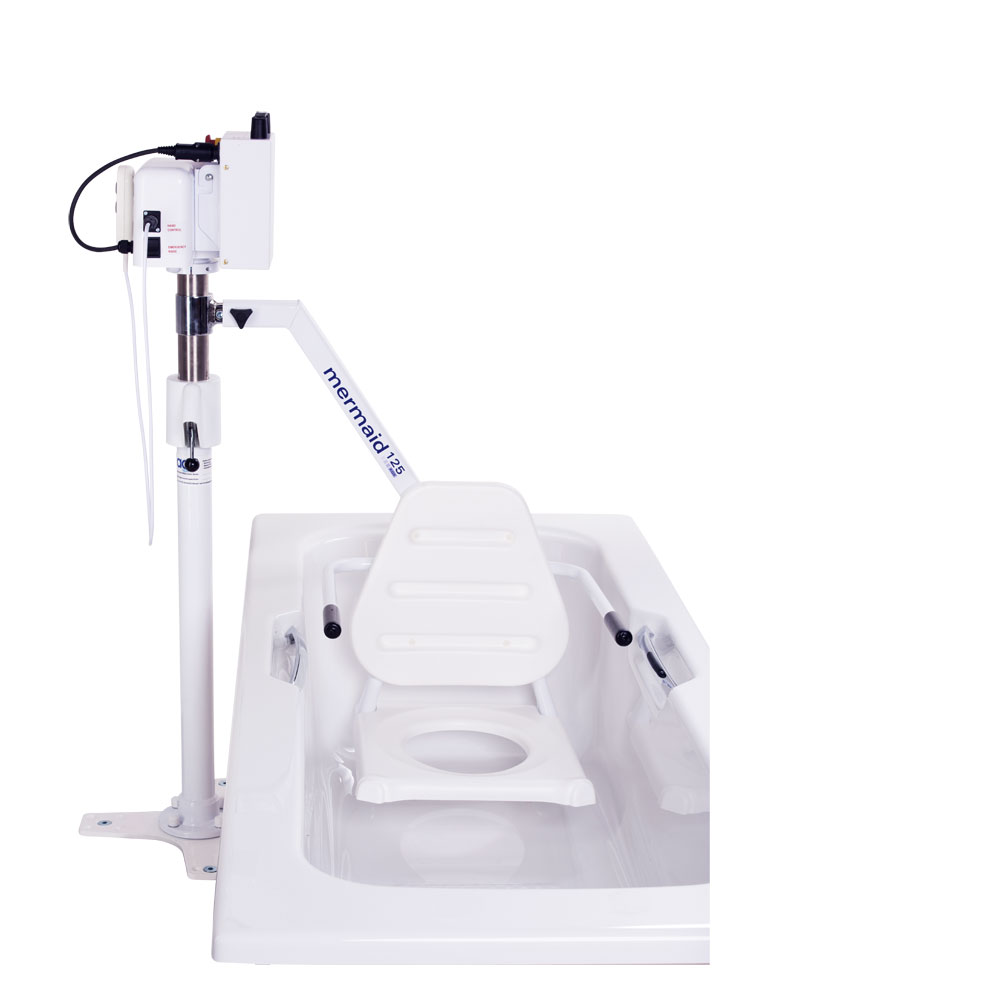 Mermaid Key Features:
- Can be fixed to wooden or concrete floors
- Hand Control for electronic functions
- Lap strap to ensure patient safety
- Safety Harness (Optional) for extra security
- Includes Battery
- Includes Charger
Mermaid Specifications:
Safe Working Load: 125 kg / 20 st
Maximum Height to Base of Seat: 740 mm
Minimum Height to Base of Seat: 140 mm
Maximum Seat Travel: 485 mm
Maximum Seat Width: 450 mm
Maximum Width Between Arms: 395 mm
Maximum Seat Depth: 410 mm
Centre of Seat to Centre of Mast: 430 mm
Maximum Seat Turning Radius: 850 mm
Maximum Clearance from Mast (to allow for seat rotation): 1000 mm
Weight:
Total Weight - Mermaid Manual: 29 kg
Total Weight - Mermaid Electric: 37 kg
Oxford Mermaid Electric Bath Lift

The Oxford Mermaid Bath Lift is designed to safely transfer patients in and out of the bath. The Mermaid bath lift ensures reliability with its robust design. The Mermaid Electric has an emergency stop/raise feature, providing extra safety for the user during lifts and transfers. To operate the Mermaids electric features, a handset is provided. Powered Raising/Lowering is controlled via the handset. The battery pack on the Electric Mermaid is also detachable.
Mermaid SWL (Safe Working Load): 125kg/20st/276lbs
This Electric Bath hoist fits at the Side of your bath. This Mermaid includes a Commode Seat for toileting.
Bath Lift Installation:

Wooden and concrete floor bolts are supplied with the mermaid for a choice of installation into two floor types. If you would like the Mermaid Bath Hoist to be installed (additional cost), please call the office on 01772 814 555, we would be happy to help! Please note, the additional cost of installation is subject to the bath hoists location and floor type.

Whats included?

Mermaid Bath Lift

Plastic (Standard) seat
Wooden and Concrete floor bolts
Hand Control
Battery
Charger
If you are looking for Oxford Mermaid spare parts Click Here. We also supply a range of Seat Kits and Accessories.