Oxford Mini 140 Manual Hoist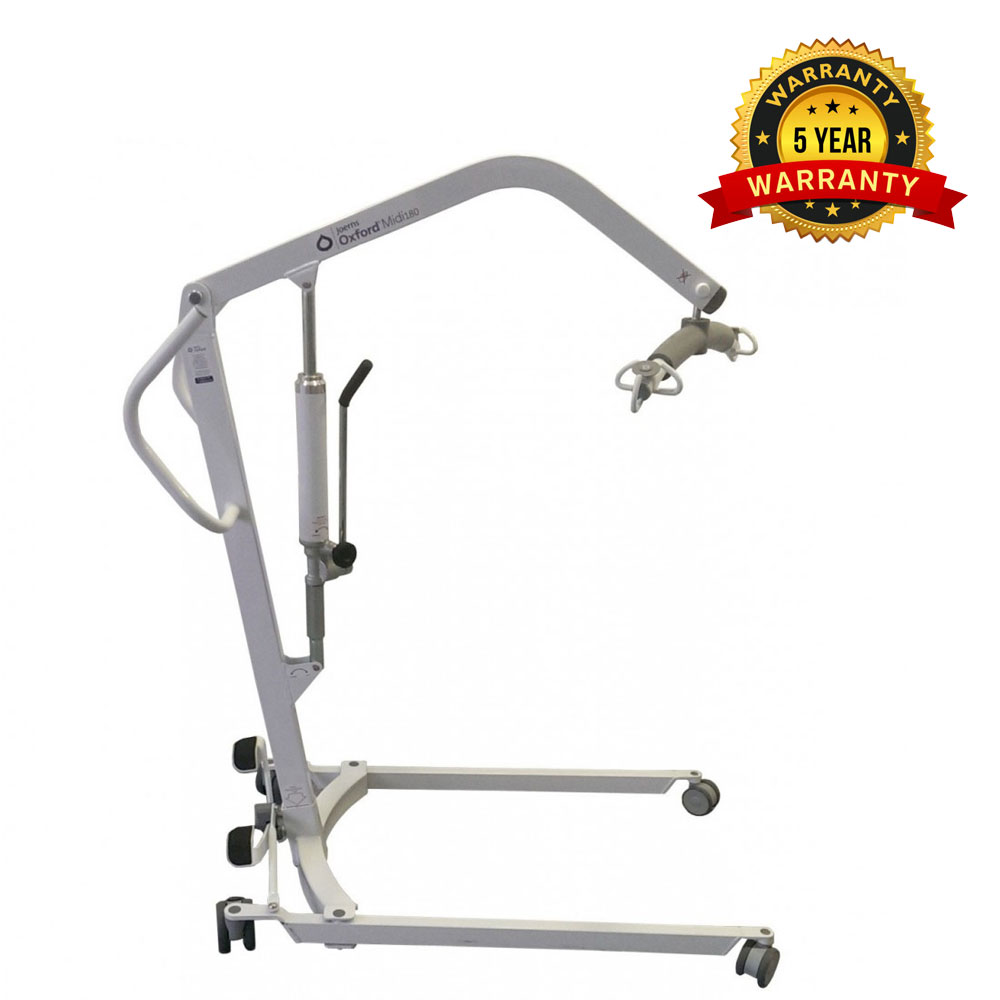 Key Features:
- Safe working Load (SWL) of 140 kg / 22st
- Interchangeable Spreader Bars

- Emergency Descent for safety

- Large Push bar for easy manoeuvrability

- Smart TM Monitor for diagnostics and data feedback

Specifications:
Safe Working Load: 140 kg /22 st

Length: 1175 mm

Maximum Overall Height: 1730 mm

Minimum Overall Height: 1230 mm

Maximum Spreader Bar Height: 1545 mm
Minimum Spreader Bar Height: 530 mm

Spreader Bar Height at Maximum Reach: 1000 mm
Maximum Reach: 565 mm

Turning Radius: 1150 mm

Legs Open External Width: 1060 mm

Legs Open Internal Width: 1000 mm

Legs Closed External Width: 600 mm

Legs Closed Internal Width: 540 mm

Overall Height of Legs: 100 mm
Ground Clearance: 25 mm

Front Twin Castors: 75 mm

Rear Braked Castors: 100 mm
Weights:
Total: 28.5 kg

Mast and Boom Assembly: 17.5 kg

Base Assembly: 11 kg

Oxford Mini 140 Manual Hoist

The Oxford Mini Manual hoist will lift a person weighing a maximum of 140Kg/22 Stone. The Oxford Mini Hoist comes in two power options: Manual and Electric hoist. The Oxford Mini 140 Manual hoist is certainly one of the most cost effective hoist in the market. The Oxford Mini 140 Hydraulic lifter is also very popular in areas where there is a limited power supply.
Many care homes and nursing residential homes have a number of manual hoists in the event of a power outage as a contingency. You can select three sizes of interchangeable spreader bars from Paediatric (Small), Standard (Medium) and Large. To compliment our spreader bars we have a selection of Oxford slings to meet your needs.
5 year Warranty on Hoist frame & actuator

1 year Warranty on battery, charger and handset and castors