Oxford Presence Low Leg Hoist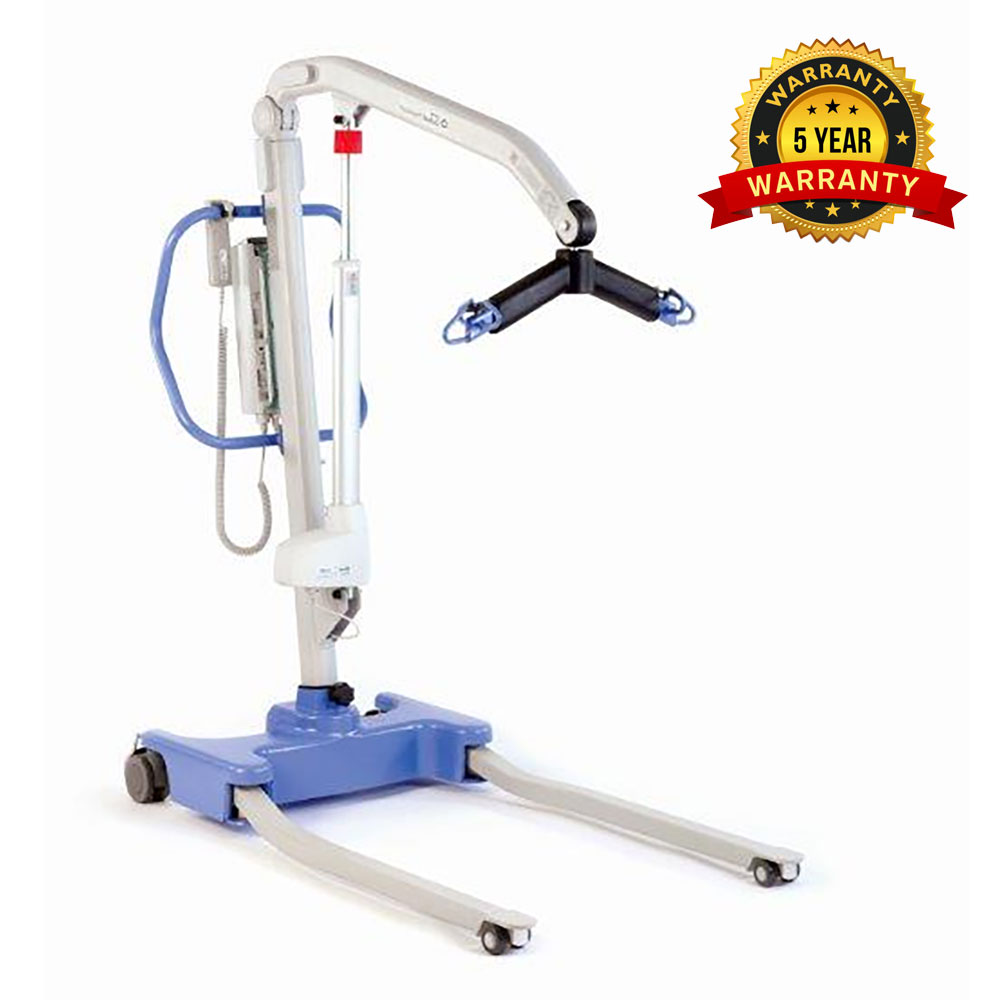 Oxford Presence Low Leg Hoist
The Oxford Presence Patient Lift has a fantastic lifting capacity of up to 227 Kg which is specifically designed for bariatric patients. The Presence has an exceptional range of movement with a minimum height of 440 mm when the six-point spreader bar is in use, which allows for safe and secure lifting of bariatric patients from the floor to their chair or bed. If you need to access high nursing surfaces, the Presence will lift up to 1910 mm.
The low leg version is more suitable for low bed frames, allowing you to get under the bed easier.
The Hoist provides ample space allowing for closer interaction with the patient whilst the unique swan neck leg design allows the lift to get close to wide obstacles like wheelchairs, commodes and large chairs.

The Presence incorporates two powerful electric motors so the legs can be opened and closed automatically, eliminating the risks associated with manual lifting.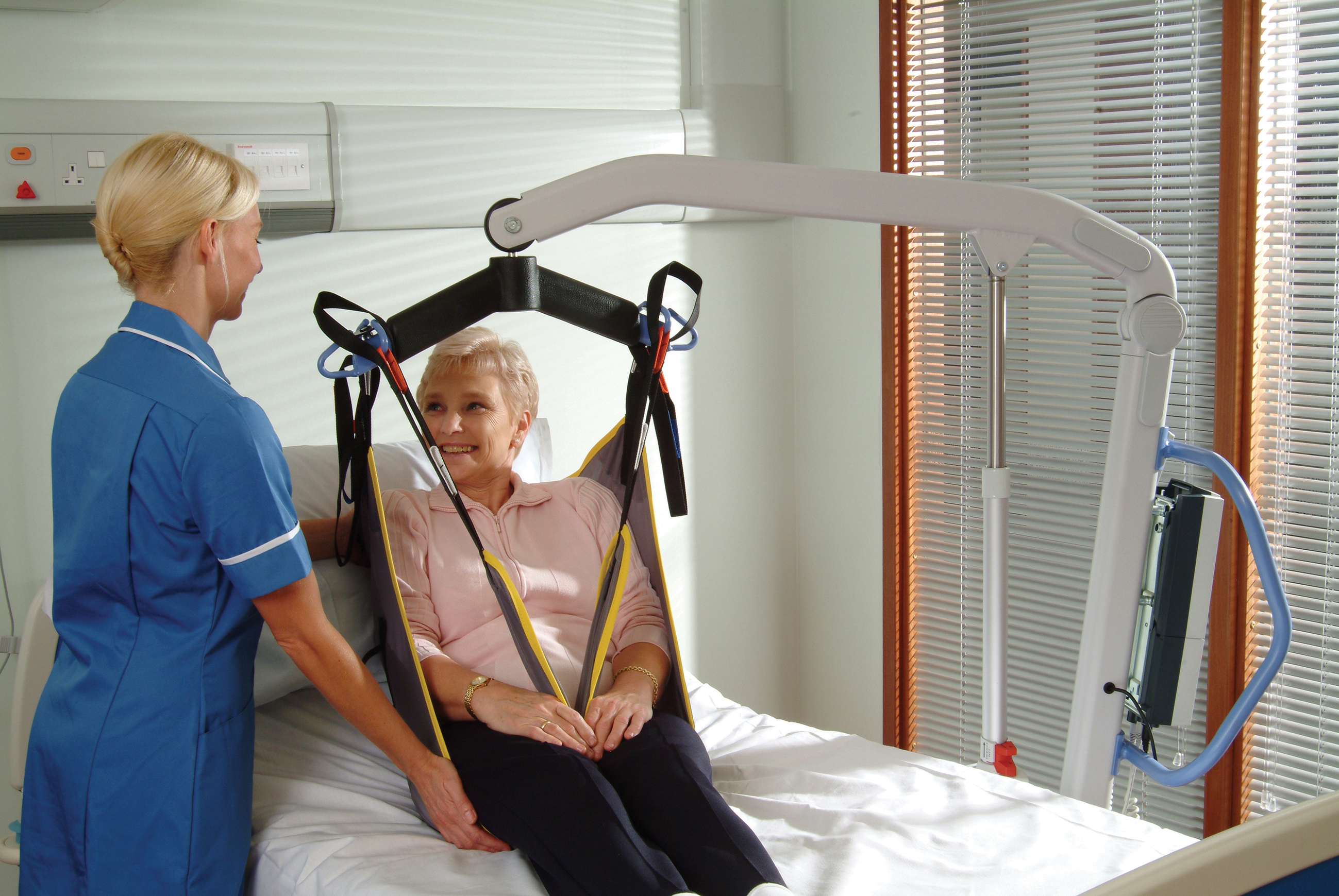 The Smart Monitor control box records the exact amount of work completed by the actuator every time it has been used. The diagnostics system notifies the user to schedule key maintenance, ensuring the Oxford Presence Hoist remains in optimum condition.
The Oxford Presence's incredible lifting range covers a variety of transfers including:

- Bed to Chair

- Chair to Chair
- Floor to Chair
- Chair to bath
Specification:

Safe Working Load: 500 lbs (227 kgs)
Maximum Overall Length: 1460 mm (57.5")

Minimum Overall Length: 1400 mm (55.1")

Maximum Overall Height: 2065 mm (81.3")
Minimum Overall Height: 1460 mm (57.5")

Spreader Bar -Maximum Height: 1910 mm (75.2")

Spreader Bar -Minimum Height: 430 mm (16.9")

Height at Maximum Reach: 1310 mm (51.5")

Reach at Maximum Height: 650 mm (25.6")

Reach at Minimum Height: 400 mm (15.7")

Turning Radius: 1630 mm (64.2")

Legs Open (External Width): 1150 mm (45.2")

Legs Open (Internal Width): 1020 mm (40.1")

Legs Closed (External Width): 670 mm (26.4")

Legs Closed (Internal Width): 550 mm (21.6")

Overall Height Of Legs: 59 mm (2.3")

Ground Clearance: 20 mm (0.8")
Front Twin Castors: 50 mm (2")

Rear Brake Castors: 100 mm (4")

4-point Positioning Cradle (Maximum Height): 1550 mm (61.0")

4-point Positioning Cradle (Minimum Height usable): 390 mm (15.4")

Weights:
Total (incl 6-point spreader bar):
88 lbs (40 kgs)
Power Pack: 6.6 lbs (3 kgs)

4-point Positioning Cradle (manual operation): 13.2 lbs (6 kgs)

4-point Positioning Cradle (powered operation): 19.8 lbs (9 kgs)
Key Features:
Has a safe working load (SWL) of 227 kg (35 stone)

Lifting Range of 440 mm - 1910 mm

Powered Leg

Positioning

Ergonomic design




Smart TM Monitor control box diagnostic results

Large push handle for easy maneuverability

Spreader bar can be easily swapped (4-point or 6-point)
Whats Included:
Spreader Bar

Battery

Charger

5 year Warranty on Hoist frame & actuator

1 year Warranty on battery, charger and handset and castors

If a call out is needed, this service is chargeable.
Slings