Prism Free Standing Gantry and Portable Hoist Package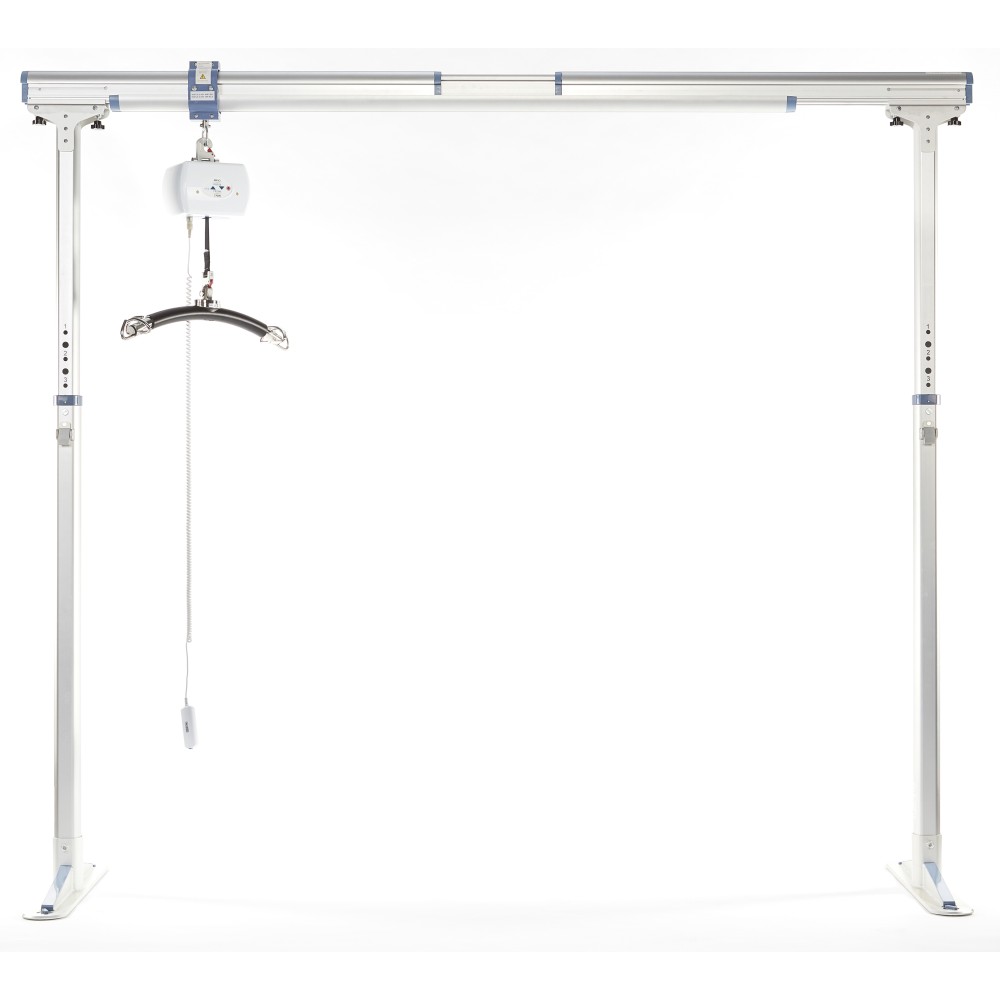 Gantry Hoist Features:
High-strength lightweight aluminium
200kg (440lbs) max load
1.9-2.85m (6.2-9.35ft) adjustable track length
2.1-2.5m (6.9-8.2ft) adjustable height
Stable 0.87m (2.85ft) feet
Built-in easy-slide trolley
Floor level adjusters
Star Handle securing screws
Safety latch to prevent uprights retracting
Securing Bolts and lynch pins
One (1) year warranty
Prism Portable CP200 Hoist Features:
Compact lightweight aluminium chassis, total
unit weight 4.5kg without a carry bar.
Capable of transferring a patient of up to 200kg (440lb)
Up, down and emergency lowering controls on
both hand controller and unit
Power switch on rear of unit
Auto power off after approximately 30 seconds of non- use to save battery
50-60 lifts per charge
Integrated wall dock and charger
QRS reacher and QRS carry bar
Trolley Set (compatible with Prism Medical track systems)
LED indicators for:
Battery and error status, Sleep mode, Emergency lower,
Temperature warning, Lifted weight is over capacity, Slack tape
error and Charger fault
Prism Gantry Hoist Specifications:
Max Safe Working Load: 200kg
Minimum Useable Track Length: 1900mm
Maximum Useable Track Length: 2825mm
Minimum Unit Width 2445mm
Minimum Unit Width: 3387mm
Minimum Ceiling Height: 2141mm
Maximum Gantry Height: 2508mm
Foot length: 870mm
Total Weight (Boxed): 47.5kg
Unit weight (inc Trolley): 44kg
Track / Trolley Weight: 16kg
Upright weight (x2): 10.5kg each
Feet weight (x2:) 3.5kg each
Height adjustments: 75mm
Warranty: 1 year
Prism Portable CP200 Hoist Specifications:
Max Safe Working Load: 200kg
Hoist Case: Non Flammable ABS Plastic
Length: 208mm
Width: 177mm
Height: 149mm
Weight: 4.5kg (Hoist only)
Rail Transfer: Manual
Hoisting Range: Up to 2100mm
Lifting Speed: (unloaded) 35mm/s
Lifting Speed: (100 kg loaded) 25mm/s
Charger Input: 100- 240V
Charger Output: 24V - 1.33 amps
Emergency Stop: Electric
Hand Control:Electric 3 (Button)
Batteries: 2 x 12V - 3.3Ah Nimh
In Track Charging: Not Available
Removable from Track: Yes
Duty Cycle: 15% use, 85% rest
Prism Free Standing Gantry and Portable Hoist Package
The Prism Free Standing Gantry and Portable hoist can be purchased together as a package, at a discounted price this will be saving you money.
The Free Standing Gantry System is designed to provide both the carer and user a safe, stable hoist track in places where fixed hoists are not available or whether a portable solution such as travelling is needed. It is a cost effective solution that is extremely easy to transport and assemble in minutes by either 1 person or 2 without the need of tools. The Prism Gantry System has a safe working load of 200 kg (31 stone). It caters for both the patient and carer providing a safe and dignified experience. The Prism Free Standing Gantry and Hoist can be used to lift and transfer individuals from a bed to chair, chair to bed etc...
The Prism CP200 Portable Track Hoist offers exceptional versatility and cost savings as it can be quickly removed and put onto another fixed/gantry system. The quick release system on the top and bottom of the unit allows it to be swapped quickly. The Prism CP200 is compact and quiet in use. Whilst offering a start/stop function for user comfort. The CP200 can provide up to 60 lifts on a single charge and also has a safe working load of 200 kg. The lightweight aluminium (4.5 kg) makes it easy to carry when travelling.
Manufactured in the UK and 1 Year Warranty