Oxford Easytrack FS Gantry and Voyager Portable Hoist Package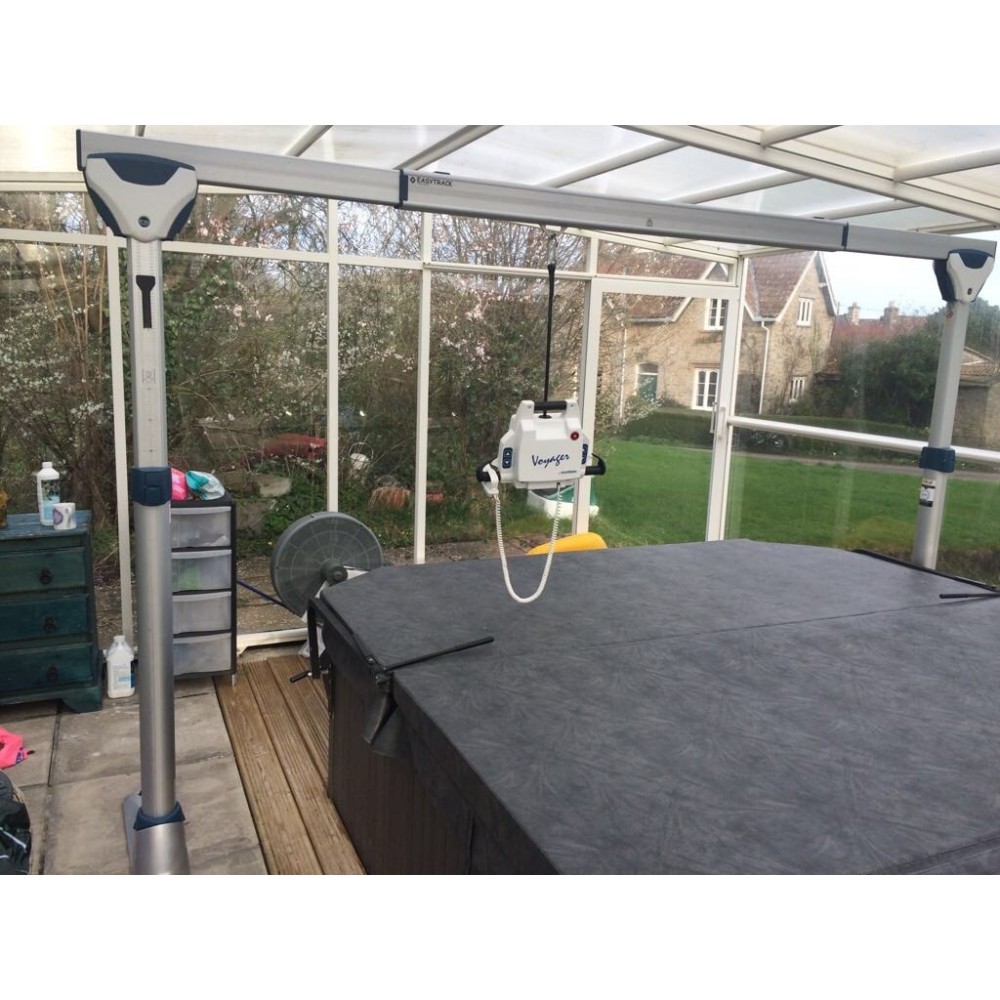 Specifications: Voyager Portable

Safe Working Load: 200kg / 441Ibs / 31st
Soft Start and Stop
Emergency Lower Manual
Emergency Stop
Low Battery Indicator Audible
Battery Capacity (load of 75kg) Upto 30 transfers
Battery Charger Freestanding
Weight (including battery): 5.5kg / 12Ibs
Quick Release Tape Mechanism P
Compatible with Full Oxford Sling Range
Vertical Speed 4cm/sec
FS Track Dimensions:
Safe Working Load: 200kg / 441Ibs / 31st
Floor to Top of Rail: 1,830 - 2,406mm (72 - 95")
Floor to Bottom of Rail: 1,680 - 2,256mm (66 - 89")
Exterior Width: 2,210 - 3,230mm (87 - 127")
Interior Width: 1,910 - 2,930mm (75 - 115")
Footplate Length: 1,075mm (42")
Footplate Width: 150mm (6")
Rail Weight: 14kg (31Ibs
Post Weight (each): 9.5kg (21Ibs)
Footplate: 5.5kg (12Ibs)
Weight of footplate (each): 5.5kg (12lb)
Weight of Upright post: 9.5kg (21lb)
Track/Rail: 14kg (31lb)
Oxford Easytrack FS Free Standing portable gantry hoist is an excellent portable tracking hoist for high dependant service users who need assistance to be lifted into bed, out the bath, bed to chair, chair to bed etc. The system comes with a 2 year Warranty.

As the Oxford Easytrack FS Free Standing portable gantry hoist is so light and portable, it can be assembled in a matter of minutes. This portable track hoist is going to revolutionise people with disablities whom wish to travel now and in the future.
The oxford Easytrack FS Free Standing portable gantry hoist has a portable case to protect the Oxford Voyager portable hoist in transit, consequently, taking the system on a plane is made easier. This can be purchased separately and does not come with the package deal.
Please call 01772 814 555 to arrange a Free Hoist Demonstration at your home or place of work.
What's included?
Oxford Voyager Portable
Charger
Battery
Easy track FS Gantry


THIS PRODUCT IS AVAILBALE TO BUY VAT EXEMPT.