25 Mar

Finding the ideal Stand Aid.

Stand aids come in all different forms. AAL have a wide range that will suit an individual's needs. We have both electric and manual stand aids available.
The manual stand aids will require the service user to be able to pull themselves up into a standing position. The stand aid needs no electrical or mechanical assistance when transferring. It does however offer assistance when pulling yourself up. This could be either a strap, sling or simply using the handles bars. The manual stand aids are very effective for those who can only weight bear for a short period. The Straps enable a person to maintain a standing position whilst the transfer is completed, for example going from seat to toilet. They offer extra support just above the buttocks and around the waist.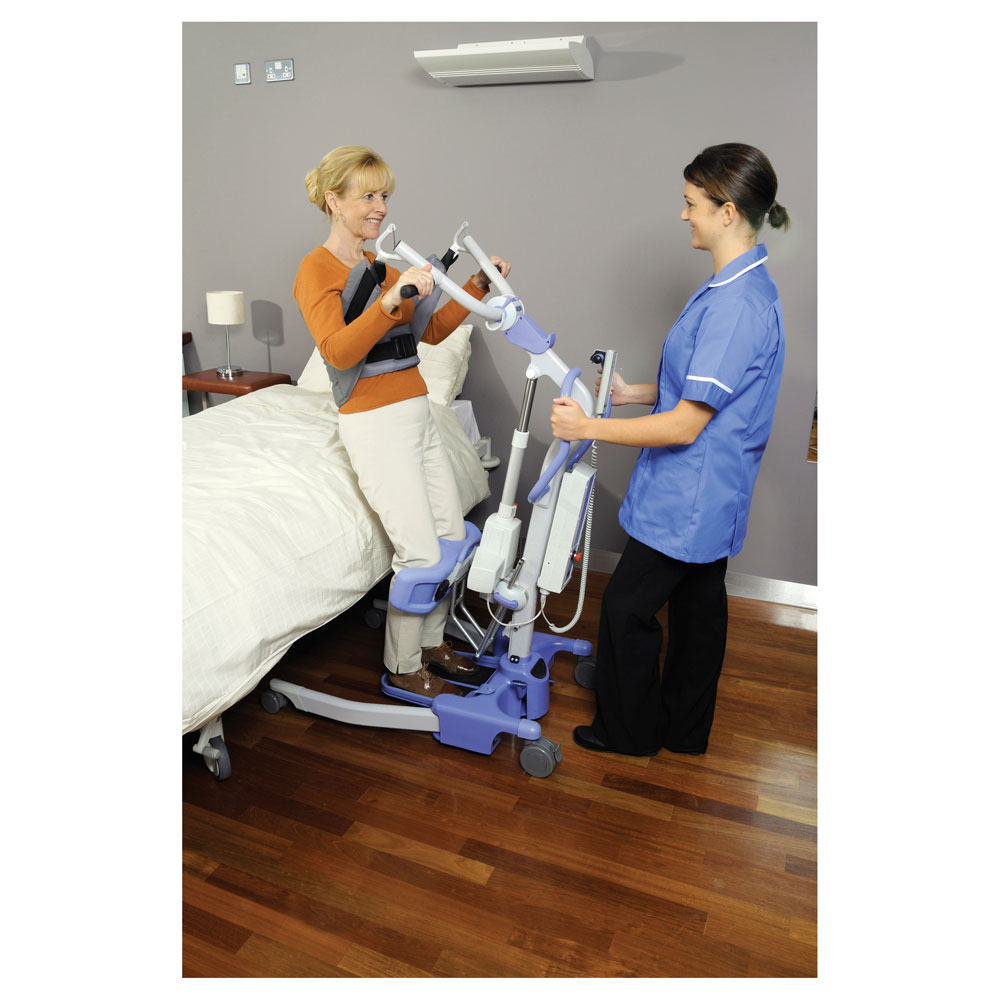 Electrical stand aids are an excellent solution to aid professionals whilst undertaking rehabilitation with the service user. The service user may have been able to weight bare and transfer before the long period of ill health. The use of the mechanical stand aid enables the professional to safely assess the service user and grade their activity. This will help with the rehabilitation, whilst offering the service user a feeling of support and increased confidence.
Stand aids are not just for assisting the service user to stand but also maintaining the standing ability. The Oxford Journey Folding Stand Aid offers an excellent solution in both domestic and care home environments. Easily foldable, lightweight and exceptionally robust, the Oxford Journey embodies the latest design and manufacturing technologies to create the most portable and compact folding Stand Aid in the industry. The safe working load for the Oxford Journey is 155 kg.
The Oxford Up is a manual stand-aid and seated transfer device, suitable for those who require assistance when standing but are able to weight bear. The Oxford Up encourages user participation whilst playing a fundamental role in patient rehabilitation and maintaining functional independence. The Oxford up has the highest safe working load in our stand aid family of 200 kg.
The Prism Freeway Raiser is the ideal sit to stand transfer aid. It is designed to provide a safe and active transfer for the user. It is perfect for short distance transfers, such as to/from bed to shower chair. Small and compact the Freeway Raiser is the perfect solution for home environments where space is limited. It has a superb safe working load of 160 kg. The prism Raiser works in conjunction with the raiser belt to give you extra support when standing.
If you wish to discuss the stand aids in more detail please call our excellent team on 01772 814555.