20 Jul

Hot Tub with disabled access
Do we know of a "Hot Tub with disabled access" is a regular question we get asked. The simple answer is yes.
The Oxford Easytrack FS is a portable gantry hoist solution which enables a wheelchair user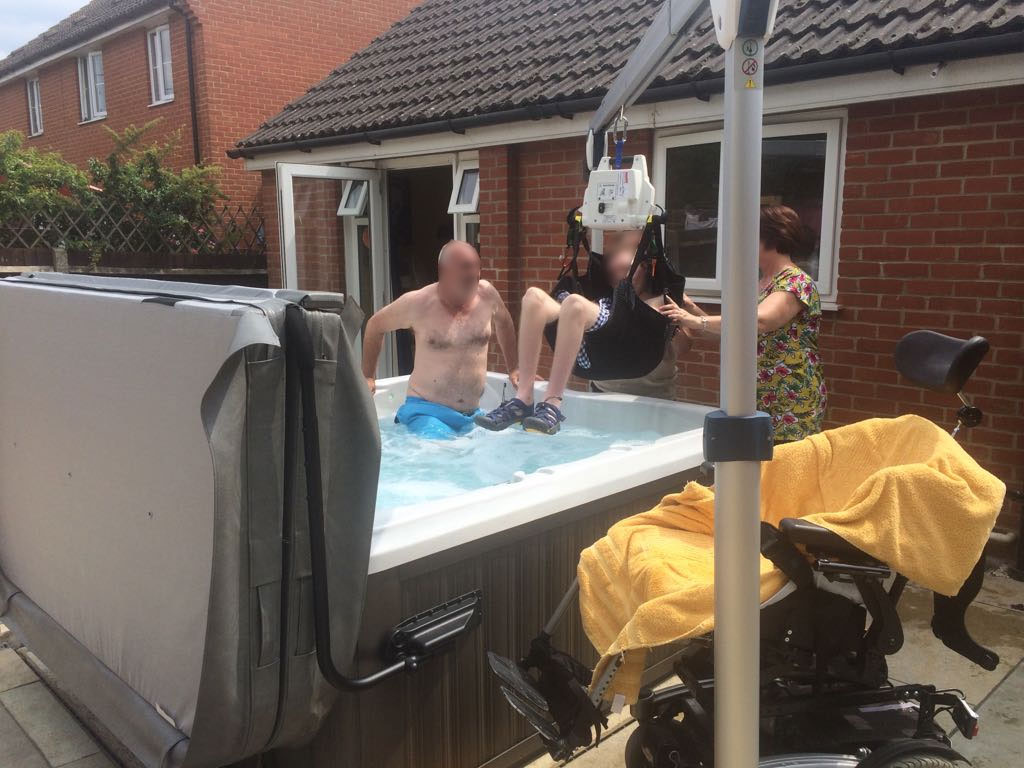 or someone with limited use of their legs to access a Hot Tub, Jazuzzi or similar type of recreational water feature.
Many mobility hoists and parts customers are enjoying the use of their Hot Tub whether its in the garden or in-doors. The beauty of the Oxford Easytrack FS is that it's portable. So if your Jakuzzi or Hot Tub is in the garden for instance, you can bring the hoist in and not have to leave the system outside being damaged by adverse weather.
The Oxford Easytrack FS extends to a max. width of 3m, so the average Hot Tub or Jakuzzi is no longer than 2m in diameter. Leaving ample room for most wheelchair users to wheel next to the pool and be transferred easily and safely into the hot tub.

How does the hoist work?
The Oxford Easytrack FS is the actual gantry. A trolley is fitted inside the horizontal rail as standard, the trolley has a metal loop to connect to a hoist system. Our preferred lifting solution is the Oxford Voyager Portable lift with a Safe Working Load of 140Kg approx 22 stone.
The Oxford Voyager Portable hoist connects to the Oxford Easytrack FS with a carabiner hook (similarly used by climbers). This simply clips on securely. Then the battery is fitted by sliding it into the battery holder, whick locks into place.
The service user is then fitted with an Oxford Bathing sling or similar which has loops that connect to the Voyager Portable hoist spreader bar. Once connected, the service-user can be safely lifted.
To operate the Oxford Voyager Portable hoist, there is a handset which lifts and lowers the service user. The hoist rolls smoothly side to side in the horizontal rail. Its very easy to use.
The benefit in using the Oxford lifting solution is that the service-user is easily and safely lifted from chair to pool; pool to chair and the operator is protecting themselves from being injured. We regulary hear of people lifting their children from floor to chair and visa-versa as it's quicker than setting up a hoist.
The issue is, when you've injured your back and no longer find it easy to do simple tasks, how will you feel when you can't assist your loved one any longer?
Think about it, a moment setting up a lift, saves a lifetime of pain.
If you would like a demonstraion of the Oxford Easytrack FS and Oxford Voyager Portable hoist, then please don't hesitate to call us on 01772 814555.